ALBOS BASE (Crypto Payment Terminal)
---
ALBOS provide ALBOS BASE(POS), a new crypto payment terminal that can easily make payments using BTC and other cryptocurrencies at restaurants and shops.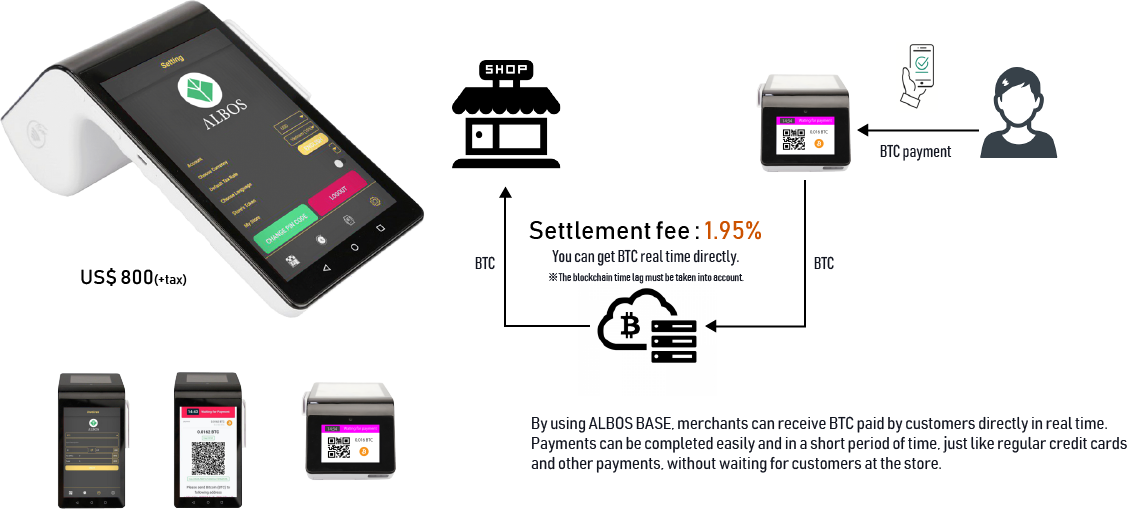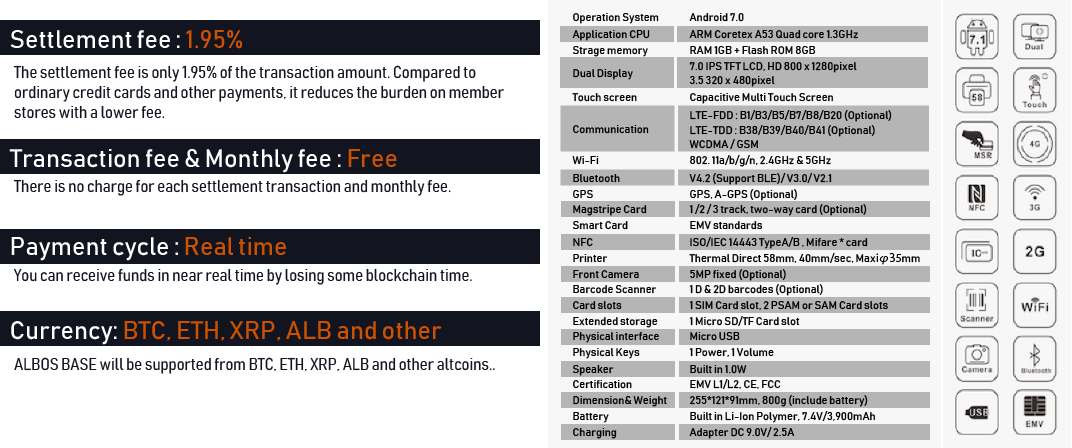 Please register KYC after signing up.
Screening will proceed in the order in which KYCs are registered.
For the time being, it is expected that it will take 2-3 weeks for KYC screening and about a week for shipping the product.
If you apply early, it will be delivered around December.
Cryptocurrency Prepaid Card
---
ALBOS will collaborate with prepaid card issuers of various international brands to link prepaid cards to ALBOS Wallet.
*Scheduled to accept applications the end of March 2020.
Cryptocurrency ALBOS Online Payment
---
ALBOS Online Payment is an online payment gateway that allows BTC, ETH, and ALB payments to be received by merchants in cryptocurrency.
You can receive in real time.
The ALBOS Online Payment Gateway can easily connect to virtual currency settlement.
You can easily incorporate virtual currency payments into in-house developed systems, EC carts, and various payment scenes.

ALBOS Affiliate Program
ALBOS affiliate program join easy. Affiliators can get affiliate fee by BTC.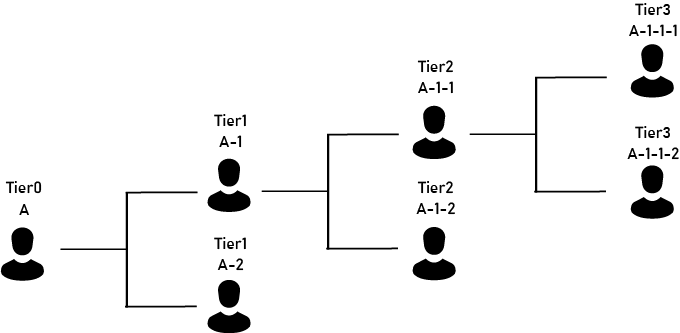 If User A-1/A-2 registered, User A will have 60 Euro as reward.
If User A-1-1 registered, User A will have 15 Euro as reward, User A-1 will have 60 Euro as reward.
If User A-1-1-1 registered, User A will have 5 Euro as reward, User A-1 will have 15 Euro as reward, User A-1-1 will have 60 Euro as reward.
If User A-1-1-1 charge 20,000 Euro, User A-1-1 will receive 250 Euro (1.25% of charge amount), User A-1 will receive 100 Euro (0.5% of charge amount), User A will receive 50 Euro(0.25% of charge amount).
*Scheduled to be released on December 2nd, 2019
ALBOS Token Holder Reward Program
When the ALBOS token holder uses the ALBOS wallet's Reward Program Plan to store ALBOS tokens for a certain period of time, it will be a program that returns a certain amount of revenue sold on the ALBOS Payment Platform.
ALBOS REWARD PROGRAM will be returned to the token holder fairly.
ALBOS REWARD PROGRAM has three programs for each lockup period.
SILVER PLAN: 3 months GOLD PLAN: 6 months PLATINUM PLAN: 12 months.
The longer the lockup period, the higher the bonus, so GOLD PLAN is increased by 20%. PLATINUM PLAN is counted up by 50%.
Part of the revenue generated from ALBOS PAYMENT PLATFORM will go into the fund.
It is distributed to this by multiplying the number of tokens by the multiplication rate of each fund.
The program is scheduled to begin on December 1, 2019. It is closed once a month at the end of each month and automatically returned to WALLET within the next 3 business departments. (Time zone in Estonia)

*Albos team have already find big merchant of online payment. But it is stopping the project because of COVID-19. It will need more time for COVID-19. So until the impact of COVID -19 settles, we will remain on a monthly payment basis.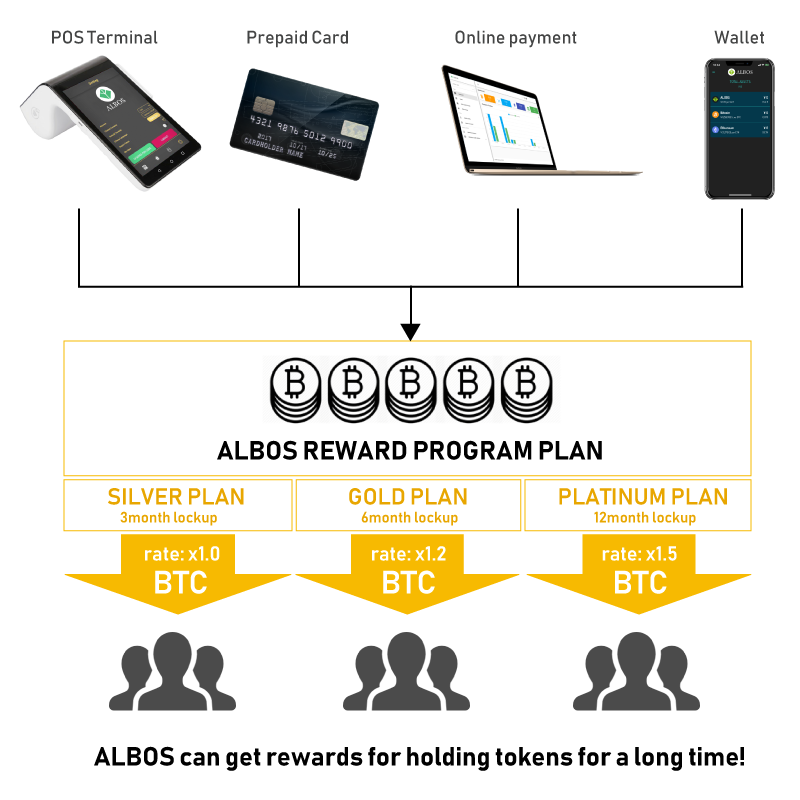 ALBOS Partnership Program
We offer three values. Would you like to join a platform that not only waits for service launches and token price increases,but also returns to token holders?


Good news for altcoin issuers listed in cryptocurrency exchange. Are you doing, development and marketing for the launch of each service? Here are some things that are more effective than listing on a bad exchange. By participating in the ALBOS Payment Platform, altcoin is used for payment terminals, online payments, and wallet services.
Can be used for in-store payments.


In ALBOS Payment Platform, token holders can get reward programs with Bitcoin simply by using a reward program which is dedicated to altcoins. It is not easily to cashed altcoin to fiat right now. Rather than aiming for short-term sell and price increases, it is important to have long-term token holders. Therefore, Reward program by ALBOS.
Payment Platform can effectively suppress extreme dissatisfaction with token holders.


ALBOS Payment Platform consists of four services: wallet, prepaid card, POS terminal, and online payment. Among them, for prepaid cards, POS terminals, and online payment services, we have an affiliate system for initial expenses, product charges, and payment fees. For this reason, we also have a revenue program for altcoin players.

Please contact us for more information.